Upcoming Exhibition: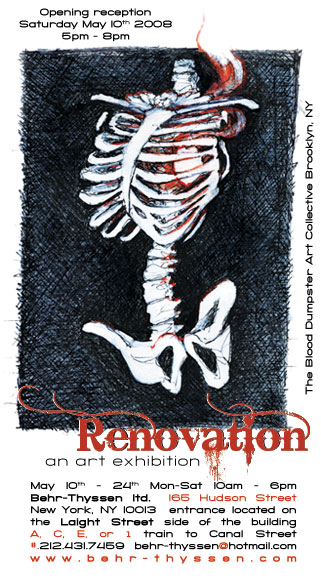 05/10/08 - 05/24/08 :: "Renovation"
Opening reception :: Saturday, May 10th 2008 5-8pm
Behr-Thyssen proudly presents a show by the art collective "The Blood Dumpster". A group show featuring diverse, upcoming artists who find the darker side of classical themes, applying an ominous tone. Various works focus on religion's role in the present, allegories of today and modern myth. Many emphasize mathematics and sciences that develop our current technologies and that which we are on the brink of discovering and developing. Classical studies of figures with a modern ideal of the body as well as reinterpretations of classic compositions and imagery will be present.

The show will explore this theme through various mediums and through the many distinct voices of the Blood Dumpster art collective. Often dark or harsh, the artists' works paint a very different picture of what the Renaissance means to the moment of now. On exhibition will be a wide range of painting, drawing, sculpture, and photography.
download the press release here
Sample images::